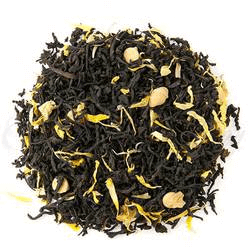 Caramel owes much of its legacy to the famous chocolatier Milton Hershey.
Before branching into chocolate, Milton brought a confection normally made by grandmothers using butter, vanilla, and sugar to national attention.
He formed the Lancaster Caramel Company and then sold it in 1900 for the whopping sum of 1 million dollars thus creating the American Caramel Company. That company - if you can believe it - even had its own banknotes printed?
But enough about that.
The taste of caramel is what is truly amazing. Crème caramel... Caramel popcorn... Caramel ice cream... Caramel cubes... Caramel apples… Any way you look at it caramel is delicious.
Its sweet butteriness makes this tea one of the great dessert teas. The slight vanilla notes of the blend mix perfectly with a little milk and a dash of sugar. This tea, true to form, tastes like a million bucks.